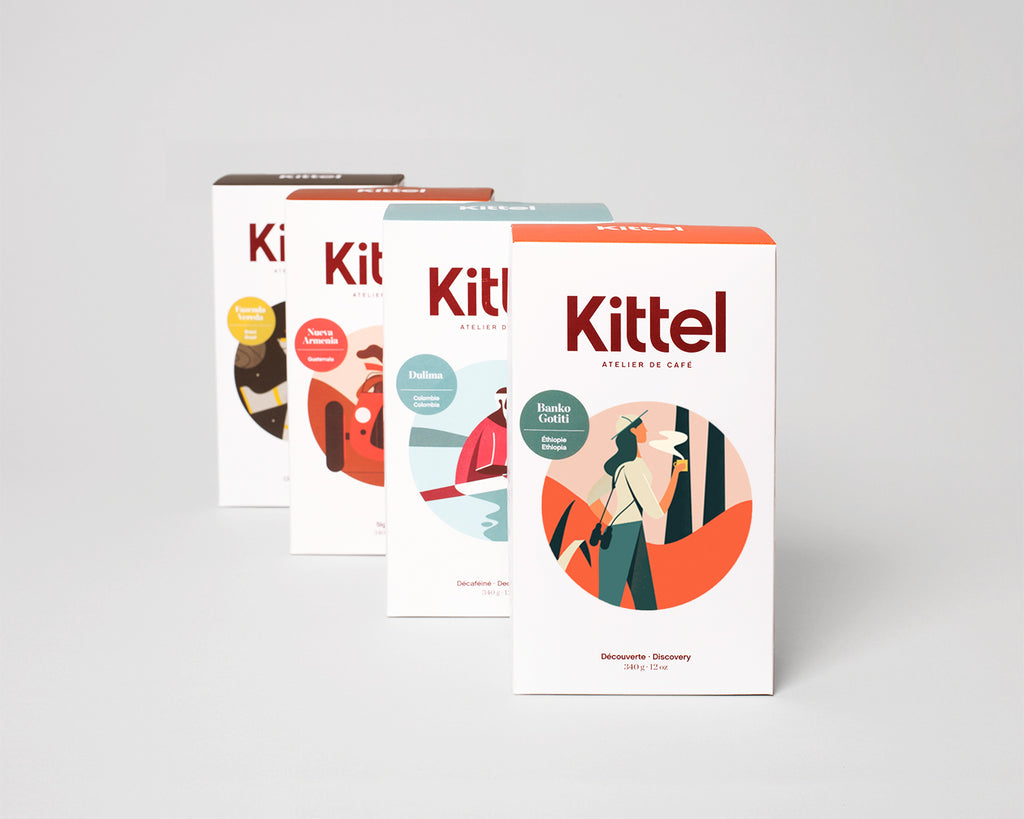 When we started Kittel Atelier de café, a little over 6 years ago, we promised ourselves that we would never put marketing before the quality of our coffee. But now that we've managed to build a team entirely dedicated to defining, roasting and quality testing all aspects of our coffee, we think it's high time for a makeover.
It was during a process that took over a year that we teamed up with an independent creative director and a designer to help us define the very essence of our company. We wanted to show our partners and all coffee enthusiasts that we care as much about the quality of the product we roast as the experience of the person who tastes it. This is how the idea of ​​having a collection began to take shape.
Many of you are looking for a unique experience:
A rich, full-bodied espresso with chocolate notes

A balanced, sweet coffee that you will find in a cup of filter coffee.

A crisp, vibrant and even floral coffee that will excite your palate and impress your friends

A decaf that gives you the feeling of real coffee
Classic .
Signature
Discovery .
Decaffeinated
With our different collections, we wanted to show that we respect your preferences while inviting you not to necessarily buy the same coffee every time. For example, if you are a fan of a coffee from the Classic collection, there is a very good chance that you will like another coffee from this same collection. And who knows, if you're feeling adventurous, you might even try a coffee from the nearby collection!
The collections can be considered as a palette of notes ranging from the darkest to the richest, passing through lively or even exotic notes.
When we made the decision to classify our coffees, we wanted these collections to be expressed visually as well. So we worked with Timo Kuilder , a renowned Dutch illustrator, to tell an illustrated story of adventure and intrigue in four chapters.
Each illustration focuses on an individual painted in the colors of the flavors in their collection. These four characters have one thing in common, in the heart of an action, all think of only one thing: coffee. This story is ours, that of Kittel. Coffee is the source of all our actions.
So, once the artwork project was finished, we had one last challenge to face, determining the new packaging. A multitude of options were considered: zipper pouches, craft paper bags, glass jars or even metal boxes, but none met our expectations.
We wanted packaging with little environmental impact while maintaining a great customer experience. It had to be attractive, aesthetically beautiful, easy to display but also able to be reused, recycled or even able to decompose in nature.
We tested many packaging samples but only one stood out from the rest: the boxes. We were immediately seduced by this packaging which, beyond its attractive appearance, is also easy to present on our partners' shelves. The boxes also offer a sustainable solution because even the most beautiful of them can be made entirely from recycled material while being it itself.
However, we couldn't just put roasted coffee in a box and hope for the best. Coffee is a commodity vulnerable to oxidation and outgassing which loses much of its flavor and aroma within a few days when left in the open air. Putting the coffee in a standard foil-lined plastic coffee bag (the industry standard) would mean non-recyclable packaging. And it was at this stage of the adventure that we discovered TekPak .
TekPak is a Canadian company that has developed its own Omnidegradable™ brand of coffee packaging. With their help, we are now able to provide 100% biodegradable bags (including the valve). Combined with the recycled and recyclable boxes, we have finally achieved our goal of having a product that is both durable and unforgettable.
2018 is ahead of us with the launch of our new packaging. We would like to thank all of our partners who participated in this adventure, from the talented team who helped us define our image to the team at TekPak and Imprimerie Dumaine who produced our packaging. Finally, we thank all our customers and business partners. Without you, none of this would matter.
Good year !