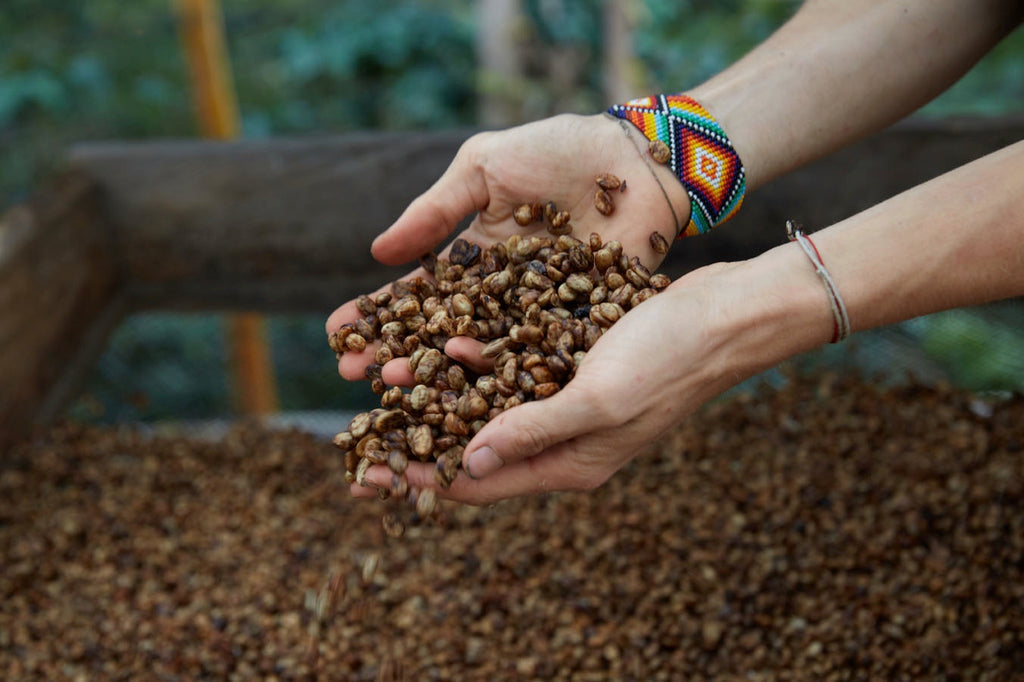 I vividly remember the day I met Helmut Ullrich. He arrived unexpectedly at our workshop with overflowing joy coupled with great tranquility. I immediately said to myself that it was about someone who loves what he does. He had come to Montreal to present to us his organic coffee farm project, Finca El Origen, which is located in the Sierra Nevada de Santa Marta region in Colombia.


Following a great trip to Central and South America, Helmut and his wife Inka chose to settle on a land overlooking the coast of the Caribbean Sea in order to live their dream of self-sufficiency and of sustainable development. The original plan was to start a reforestation project, but after discovering coffee trees on the land (some dating back nearly 100 years), Helmut was very excited at the possibilities that opened up to him.


So he decided to deepen his knowledge by reading a lot about the biology of coffee, the intricacies of roasting and modern barista techniques. Through much trial and error, he learned the basics of growing and harvesting coffee. Along the way, he has benefited from the invaluable input of Pedro (nicknamed Bordi), who has lived on the farm with his family for several years. According to Helmut, Bordi knows more about coffee than Helmut will ever know. This knowledge of the land, in addition to what he learned with Helmut by visiting award-winning farms in the Huila region, makes Bordi the ideal manager for the farm.
Helmut and Bordi are strongly supported by three employees (Mono, Vincente, and Julio) as well as several seasonal workers from the region and Venezuela. The farm therefore became a success, as did the small café and roasting workshop run by Inka, Helmut's wife, in the town of Santa Marta.
The coffees we tasted from Finca El Origen are impressive. They are soft and sweet with fruity acidity, floral notes and a long caramelized finish. They were some of the best Colombian coffees we've had, but it was the ethos in Helmut's project that ultimately motivated us to work with him.
As we mentioned before, Helmut is involved in a non-profit project to fight climate change and deforestation. Additionally, the farm is 100% certified organic and the coffee is grown in a diverse environment of trees and plants providing natural shade to the coffee trees.
The most important element in Helmut's approach remains the salary it pays its employees. Here's what he has to say on the subject:
We want our employees can grow with us and be happy. So we pay them a fair pay so they can focus on quality instead of quantity. The same philosophy applies to our employees Venezuelans, which allows them to support their families in their native country.

This is part of Helmut's philosophy:
We believe that culture biological is one thing and that a salary and working conditions fair labor is another. This is why we pay our employees three times the salary that is usually paid for this kind of work. These are the best salaries in the region and maybe even all of Colombia.
Helmut reminds us that it is thanks to direct business partners like Kittel that he can make his dream come true. The higher prices we pay reward high quality hard work and thoughtful experimentation.

This is our first year of collaboration and we have chosen two batches, one washed and one treated with the "honey-processed" technique. We hope you love these coffees as much as we do.

Photos for this article are used with permission from Soul Seed Coffee / Happy Coffee

El Origen "Honey" $22