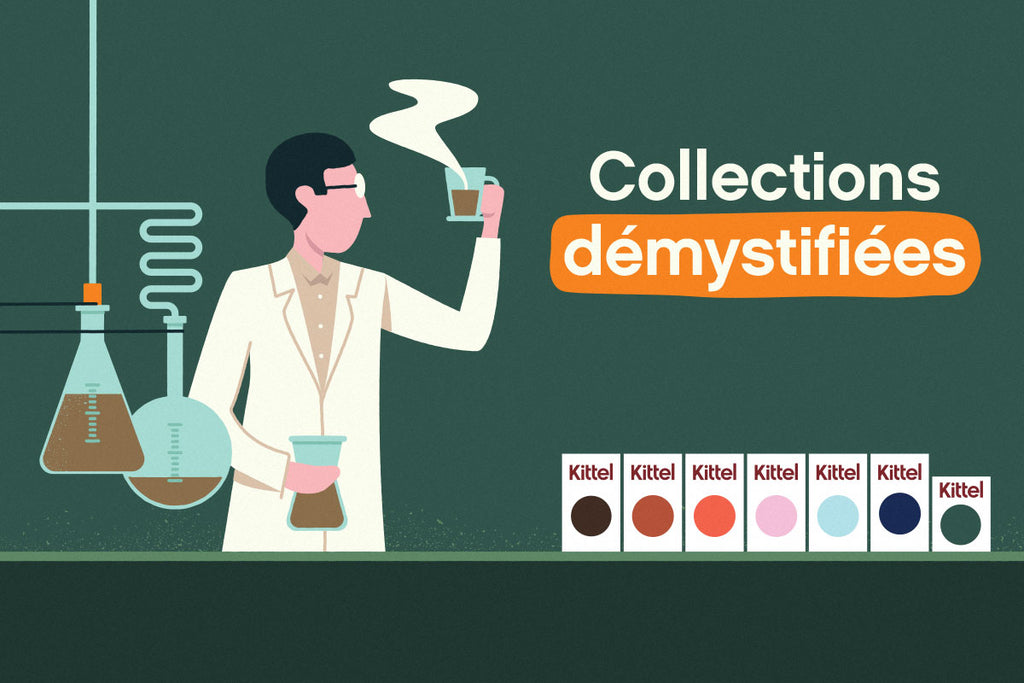 In almost a decade of roasting coffee, we have had the good fortune to meet multiple coffee lovers and converse with them over one or more coffees. Through these conversations, we were able to learn a bit more about the criteria that were considered when deciding which coffee to buy.
We've found that when most people want to buy a coffee, they already have an idea of ​​what they're looking for: a flavor profile, an acidity level, the degree to which the coffee is similar or different from the last coffee 'they drank.
By working daily in the world of coffee, we learn to differentiate the nuances and subtleties from one cup to another…. but we are also aware that not everyone works in the field. Most people will only drink one to two coffees a day and are looking for something that matches their preferences and habits.
Knowing this, we sought to create a new way of presenting our coffees in order to provide our customers with what they are really looking for, without changing our sourcing philosophy, our roasting style or asking our customers to go out too much. from their comfort zone.
This is when we put forward the collections .
A collection is a grouping of coffees, whether blends or single-origin coffees, that have similar flavor profiles. In order to create a simple classification, we have identified three points in a flavor scale beginning with flavors traditionally associated with coffee, passing through caramel and red fruits to ending with fruity and aromatic notes. These three points have become our three main collections: Classic, Signature and Discovery.

CLASSIC

As its name suggests, the Classic collection includes coffees with more traditional notes such as chocolate or nuts as well as a low level of acidity. Occasionally we accentuate these notes by using a slightly darker than usual roasting process. The coffees found in the Classic collection are excellent in espresso and go well with milk.
SIGNATURE

Signature Collection coffees sit in the middle of our scale and represent one of the qualities we look for most in our coffees, balance. By balance, we mean coffees that also offer flavors of chocolate, caramel and nuts, which also blend with fruitier and slightly more acidic notes. The Signature collection coffees taste very well whether in espresso or filter. Whichever coffee you choose, you will find a nice balance between traditional notes and more fruity notes.

DISCOVERY

The Discovery Collection coffees are at the other end of the scale. These coffees tend to be considered exciting, vibrant and exotic. Of course, these qualifiers are still subjective. We choose to describe them as fruity and aromatic, with moderate to high acidity. Despite these non-traditional attributes, coffees from the Discovery collection can be found in many espresso bars. They will reveal their full potential when served as a filter without accompaniment.

Now, those who are already familiar with our offer will be wondering where are our other collections?
Indeed, beyond our three main collections, we have three others, namely Decaf, Limited Edition and Festival.

DECAF

As its name suggests, Decaf includes coffees that have completed the decaffeination process, which removes approximately 97-99% of the caffeine from a coffee bean. When we choose these coffees, we systematically apply the same criteria as for our original coffees and these are also subject to the same standards of supply, roasting and quality control. We firmly believe that a person choosing a decaffeinated coffee does not have to compromise on flavor.

LIMITED EDITION

Limited Edition coffees are distinguished by two characteristics: rarity and complexity. The first coffee offered as a Limited Edition was a microlot of maragogype bean from Finca Nueva Armenia, our direct import partner in Guatemala. As soon as we tasted it, this coffee turned out to be one of our favorites. When we decided to buy it, we discovered that only a few bags had been produced. In the end, we ended up with a very small amount of a truly unique coffee with notes ranging from cassis to cola.

FESTIVAL

The Festival collection is our newest and one of our favorites. We know that coffee is grown and harvested seasonally, but this calendar does not necessarily correspond with what the seasons naturally evoke. Winter in North America is relatively harsh and at this time many people are looking for a rich coffee with comforting notes of spices, nuts and fruits. This is how Nuit blanche, our winter blend, was born. To develop this blend as well as its summer counterpart, Le Tour (fruity and sweet), we had to adapt our approach.

Unlike our other blends available year-round, which are supplied once a year at harvest time, or that of our single-origin coffees, whose terroir will automatically dictate their category, we have to find the coffees ( whether already in our offering or sourced separately) that will be used in the Festival collection depending on the flavor profile associated with the season. It's a very interesting challenge that requires a clever combination of recipe development with a prediction of the use of each of the coffees used. The result is worth it as the coffees in the Festival collection have proven to be very popular from the moment they were launched.

We are convinced that you will like this new way of discovering new coffees. By grouping the coffees by collection, we avoid falling into clichés that automatically associate a single terroir with a particular region or country. This approach allows us to show you the coffees as they are rather than according to preconceived ideas about their origin. If you haven't already, come and explore our coffees at our boutique or at our partner cafés. And if you like a particular collection, you can use our specially designed subscription service per collection. Click here for details .

Good tasting !